Plumbing, Faucet Repair & Installation in Nashville, Tennessee
Nashville, TN and the surrounding areas benefit from the plumbing experience and expertise of Frog for all of their plumbing needs, from faucet repair and installation and more.
A Leaky Faucet Wastes YOUR Money by Wasting Water
Leaky faucets are annoying, not to mention potentially expensive, if you are experiencing an issue with your faucet you will want to address this plumbing issue promptly. Frog can help you with fast, friendly plumbing service to fix your faucet leaks and we even offer emergency plumbing service.
As many homeowners and business owners might encounter a malfunctioning faucet through the course of property ownership, it isn't something to ignore. A faulty faucet can waste hundreds of gallons of water a year or potentially risk water damage to the surrounding structure. Further consideration needs to be given to the environmental impact of wasting water as well as the potential expense of water loss. With a higher than normal water bill this will be a detrimental impact on your wallet. With ​​water and sewer rates going up in Nashville in 2021, a leak can be expensive, so it's best to resolve the plumbing issue quickly. Faucet fixes are just one of the many plumbing services we offer here at Frog. Our leak detection experience comes in handy for bathroom plumbing repairs.
With over 20 years of experience in the Nashville area, ​Frog plumbing technicians are ready to leap into action and to meet all of your faucet repair and installation needs. Call Frog to cross that leak off your to-do list, so you don't have to listen to the sound of constantly dripping water whenever you pass by any longer.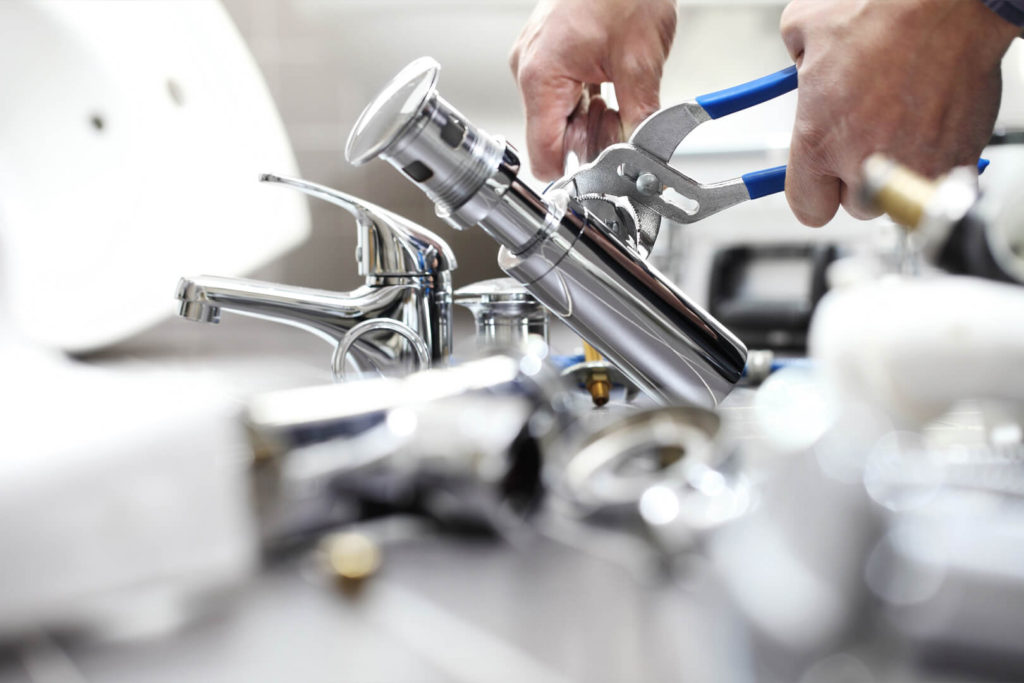 Common Faucet Problems in Nashville, TN
Most business owners and homeowners don't give their faucets much thought until something goes wrong. Faucet plumbing problems can happen for a variety of reasons, including:
Wear and tear due to aging, typically a traditional faucet can last between 15-20 years, but as it gets older, valves, washers, and seals will start to deteriorate.
Mineral and debris build up inside the faucet.
Broader plumbing issues somewhere else in your office or home, including leaky or damaged pipes.
Faucet problems may not always be obvious. How do you know if you have a malfunctioning faucet? Some common signs of faucet problems include:
Dripping water
Leaks in the vicinity of the faucet
A drop in water pressure or inconsistent flow of water, like spitting flow
Noisy faucet handles
Unexplained increase in your water bill
Plumbing: Faucet Repair vs. Replacement
Whether you need to repair or replace your faucet will depend on the cause of the problem. If your faucet is fairly new and experiencing a common issue like dripping, a simple repair will probably be enough to fix the leak.
However, if your faucet is getting older and there is failure or damage causing the issue, it may be time for a replacement. In addition to fixing the problem, a faucet replacement can improve the quality of your drinking water. Do you want to drink water that passes through an old, rusty faucet? Probably not.
A replacement will cost more upfront, but might be the right decision overall. A new faucet can also help you cut down on water costs and reduce water waste. By limiting the water stream volume, new faucets are more efficient and environmentally friendly than outdated models.
Why DIY Plumbing Repairs Are Usually a Bad Idea
A growing number of how-to guides and tutorial videos online can lead you to believe that fixing a plumbing issue is easy to do yourself. While some simple repairs may be manageable at home, there is a good chance you will do more harm than good if you do not have plumbing experience.
For starters, you will probably have to take your faucet apart to identify and fix the problem. Once you do that, you may not know what to look for or have the tools to fix the problem properly. You may cause additional damage if you improperly reassemble your faucet, which might end up costing you more money in the end.
Save yourself the time and worry, and hire a professional plumber instead. Frog has faucet repairs and installation down to a science. Look no further than Frog for professional faucet repairs and installations in Nashville. Frog has over 20 years of experience under the belt and countless satisfied customers in the Nashville area.
Our trusted plumbing technicians are fully licensed and have undergone extensive safety training and background checks. We take pride in offering professional and friendly service to our community. We get the job done right, the first time and we believe in our work so much that we offer an unprecedented 100% satisfaction guarantee.
Contact Frog For a Free Quote
Don't put off your faucet repairs any longer. To schedule a faucet repair, installation or maintenance contact us. You can also use the chat service on ​our website​ to connect with a knowledgeable team member or ​submit a repair request​ online. We are also available after hours for emergency plumbing repairs in and around Nashville, TN.