Air Conditioning Installation, Repair, and Maintenance in Whites Creek, TN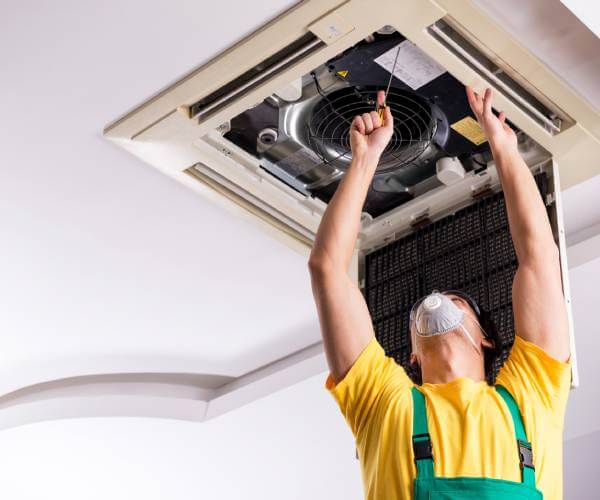 Frog Air is a leading contractor for air conditioning repair and maintenance in Whites Creek, Tennessee. Our goal is to help you avoid future cooling system malfunctions and save money in the long term. That's why our team is constantly training to stay up to date on the latest HVAC products, processes, and techniques. The technicians at Frog Air have the knowledge and experience to inspect all popular makes and models. If your unit is beyond repair, we'll assist you in identifying a new AC system that is appropriate for your needs and budget.
Why Choose Frog Air?
Frog Air offers Whites Creek homeowners a wide choice of air conditioning installation, repair, and maintenance services to keep you comfortable throughout the year. If you believe you need a comprehensive HVAC checkup, contact us right away to schedule a maintenance visit.
As a full-service HVAC contractor, we handle everything from complete repairs to replacement and maintenance. Of course, our company is fully licensed, bonded, and insured and has been proudly serving Tennessee residents for decades.
Total customer satisfaction is our main focus. That is why we leave no stone unturned in our quest to provide the most effective air conditioning service in Whites Creek, TN.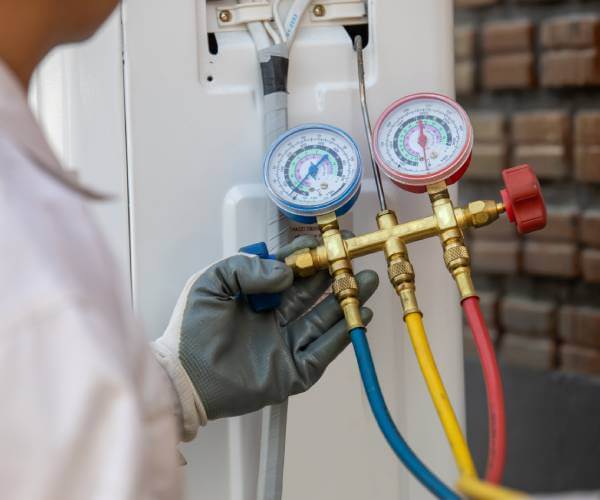 How to Tell If Your Air Conditioner Needs Repair
If you notice any of the following symptoms, please contact Frog Air immediately.
HVAC Systems Starts, Then Stops
This is referred to as short cycling. It happens when the air conditioning unit runs for a few seconds, then stops before restarting. The cycle is then repeated. This is a sure sign there could be serious issues with your unit.
In addition to a total system shutdown, short cycling can lead to significantly higher energy bills since it takes longer for the HVAC cycle to provide the proper temperatures. Short cycling can be caused by various problems such as malfunctioning control boards, clogged air filters, low refrigerant levels, and faulty evaporator coils. In any case, it's time to call Frog Air and schedule an inspection, diagnostic or new installation.
Insufficient Airflow
Insufficient airflow could indicate a blockage in one of your home's air ducts. Other contributing factors could be clogged air filters and defective motors. Inadequate airflow causes the HVAC system to work twice as hard to achieve the same goals resulting in astronomical electric bills.
Unpleasant Smells
If you detect unexplained odors in the home, please contact us right away. We're happy to conduct a thorough inspection to determine the precise source. Your system may need a mere tune-up or more comprehensive AC repairs.
Unusual Noises
When functioning at optimum capacity, most air conditioners emit a mild hum. But if, instead, you hear loud, sudden, or unusual noises, then your system could be due for a major overhaul or parts replacement. Our qualified technicians will identify the problem and provide a solution to keep your family comfortable throughout the season.
Exceptionally High Electric Bills
If your HVAC filters and ducts are clogged, it can force the air conditioning unit to overwork in a bid to compensate. This leads to inefficiencies and higher energy bills. If you notice a sudden and unexplained spike in your electric bill, you could be experiencing an issue with your HVAC unit.
We do emergency AC repair 24 hours a day, seven days a week
Our team is always available when you need us the most. In Whites Creek, TN, we provide 24-hour emergency AC repair services seven days a week. Our skilled technicians will perform any air conditioning repair, maintenance, and even full installations. We are also fully insured and are EPA/NATE-accredited.
Below is a list of the emergency HVAC services we provide:
Central heat and air conditioners
AC units
Ductless and split systems
Zoned HVAC systems
Thermostats
Air Filters
Swamp Coolers
Evaporative Coolers
AC compressors
AC condensers
Air handlers
Air conditioning
Heating repair
Heat pumps
Schedule an Appointment
If you need comprehensive AC maintenance, repair, or installation in Whites Creek, TN, don't hesitate to contact us. We take pride in our work and are excited about fulfilling all your heating, air conditioning, indoor air quality, and electrical needs.