New AC Installation in Nashville, TN
If you are looking to have a new AC unit installed in Nashville, TN look no further than Frog Heating Air, & Electrical. Why go with the experts over at Frog, you ask? We have been in business over 20 years, we have an A+ BBB rating and a 100% satisfaction guarantee. Not many AC companies can proclaim those exemplary credentials.
Let the highly qualified team of AC technicians at Frog Heating Air, & Electrical take care of your Nashville HVAC installation.
When should I install a new Air Conditioning System?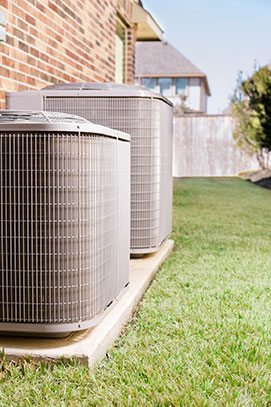 This is a question we often hear from our customers. There are a few reasons you may need to install a new AC unit, let's explore a couple of them.
The obvious scenario is that your AC system has stopped working and the repair bill is almost the same cost as having a new system installed. This scenario is a clear call to make on replacing the old non-functioning AC unit, if the repair is comparable to a new installation, it makes sense to get a new unit that will come with a full warranty. Not to mention a new AC system will likely be much more up to date and highly efficient; saving you significant money on your electricity bill each month.
The other most common scenario is that your AC unit is very old and inefficient. Your current system might be struggling to keep your home at comfortable temperatures throughout the long hot Nashville summer. A poorly running air conditioner causes a lot of aggravation; leaving your family hot and bothered. Not to mention the very unfortunate increase in your electricity bill during those long summer days and nights. If you have a much older inefficient AC unit, it could be the case that having a new AC system installed will save you money in the long run. There are a lot of benefits to having a new upgraded system, least of all is keeping your family cool and comfortable all summer long.
How We Offer Exceptional Value
At Frog we will go to great lengths to personally find you a new AC unit that will be easy on your budget and perfectly fit your home's needs. Our skilled specialist will walk you through all the options available. Whether you need a central AC unit, a rooftop system or even a ductless mini split-system, Frog Heating Air, & Electrical will clearly present the air conditioning options that fit your budget and need.
While our AC installation technicians are highly skilled, licensed, trained and EPA-certified, we pride ourselves in being able to offer highly competitive installation rates. Often at much lower installation costs than other AC companies in Nashville.
A Nashville HVAC Installation Company You Can Trust
We take pride in providing a world-class installation service that is both honest and reliable. We aim to not only meet expectations, but also exceed them.
But don't take our word for it, read our reviews or check out our BBB profile. We have maintained an A+ BBB rating from day one.
Our highly trained installation technicians are fully licensed, NATE certified, EPA certified, and insured. All technicians are background checked and drug tested, too.
Steps For Removal of An Old HVAC Unit & Installing a New Unit
Step 1: Our specialist will consult with you on selecting the best AC unit to fit your use, location and performance requirements; as well as your budget. Once you have selected a unit we move to the next step.
Step 2: Our highly trained AC unit installers will stop by your residence. Confirming all of the details having to do with the install, and they will schedule an install date with you.
Step 3: On the big day, the Frog team will firstly remove your old AC unit, tidy up any electrical as needed, and then they will begin installing your brand new highly efficient AC unit.
Step 4: A Frog specialist will follow up to make sure the install process went smoothly and that you are happily enjoying your cool temperatures!
Serving Nashville & Surrounding Cities
While Frog is located in Nashville, we provide our AC installation services throughout the surrounding Nashville cities. Including but not limited to:
Bellevue
Brentwood
Donelson
Hendersonville
Hermitage
Mount Juliet
Nashville
& more…
Schedule A Free AC Installation Consultation
To start the installation process, send us an email or give us a call at (615) 823-3965. And one of our specialists will come out to your residence to learn more about your home's specific air conditioning needs.
If you have any other questions before starting the consultation, please don't hesitate to give our friendly team a call at (615) 823-3965. They will be able to answer all of your questions regarding your new air conditioning system and installation.