Why Would You Need a New Sewer & Water Line in Nashville, TN?
Frog Heating, Air, & Electrical is the preferred choice of commercial and residential plumbing services in Nashville, Tennessee. Not only are we located and familiar with the local area, but our team of experienced professionals are skilled, reliable, and equipped to handle all of your sewer and water line needs too.
If you are constructing a new house or commercial building that doesn't have an existing sewer connection, you will need to install a sewer and water line. However, even homes and buildings with sewer and water lines may need to have them replaced if they are damaged.
Some causes for damaged sewer lines are:
Tree Roots – Tree roots are surprisingly the leading cause of sewer line damage. As trees grow, their roots branch out too, as they spread out in search of water. The roots find their water source – in your sewer line – and will eventually clog them up beyond repair.
Time – Pipes corrode over time and will, at some point, need replacement. In Nashville, Tennessee, many older buildings have cast-iron pipes which can erode and rust. If your home or business building is over 50 years old, it may be time to replace your sewer line.
Natural Disasters – Your pipes are underground, and contrary to what you may think, that does not mean they are protected from the elements. Earthquakes and flooding can damage your sewer and water lines, and you may need to get them replaced.
Signs of a Damaged Sewer Line
The following signs can indicate that you may need to replace your sewer line:
You have damp spots around the drains in your basement. Those spots can mean that the sewer line is broken and is backing up into the basement through the drains.
There is a foul odor coming from the drains. The stench is another indication that the sewer line is backed up and possibly broken.
All of your drains are backed-up, or the water is draining down them very slowly. If just one drain is backed-up, it can mean there is a clog in that particular pipe. However, if all of your drains are backed-up, that is indicative of a major issue.
You have wet and foul-smelling leakage on your lawn. Unfortunately, this most likely means that your sewer line has burst and is coming up through the soil. In this scenario, a new line probably needs to be installed.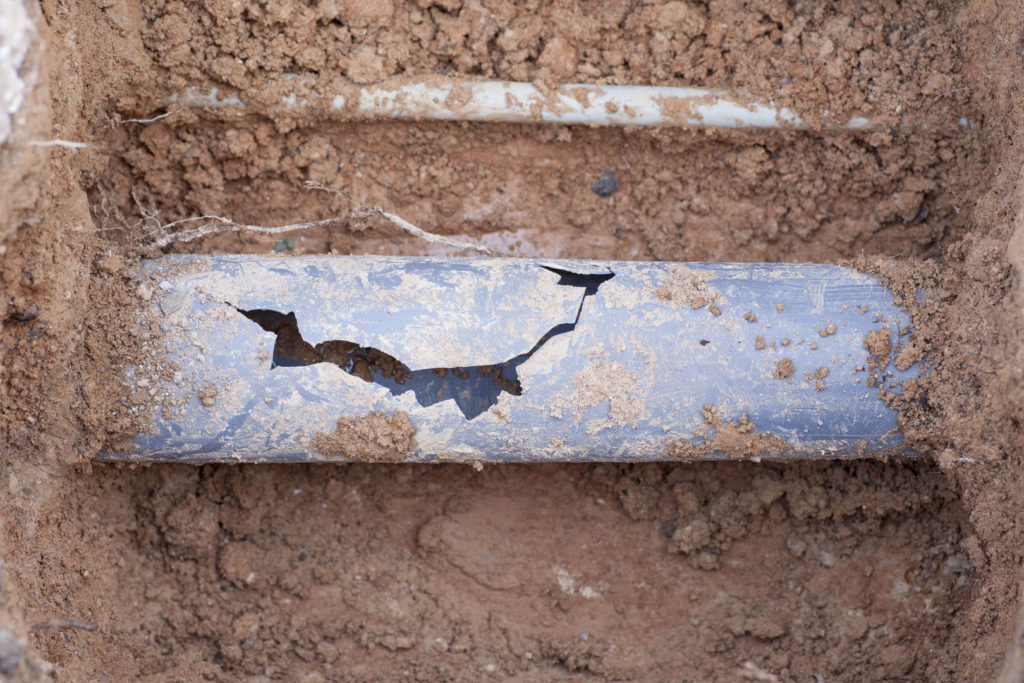 What to Expect When Working With Us
You just found out that you must replace your sewer lines. What can you expect?
Our team will come down to inspect your property and determine the optimal placement of the new lines. We will run our leak detection processes to make sure we're catching all the issues. We take into account any underground wiring and utilities, the house's elevation, and the ground's incline to determine the best slope at which to install the pipes. The proper slope is critical to avoid sewer backups. If we need to dig trenches to install the pipes, we will obtain the necessary permits, and begin digging.
We will need to dig a narrow trench stretching from your property until the main line. For residential houses, the sewer pipe will usually start from the home's main drain. It will then slope down to connect to the city's main.
We will then install the pipes. We usually start from the lower elevation point, connecting the main sewer line to your property. PVC is the most commonly used piping material now since it lasts longer than cast-iron or clay pipes.
After we test and confirm that the sewer and water lines are working, we will then refill the trench with sand and soil. The sand will fill the spaces between the pipes and the soil to prevent future sagging.
At this point of the process congratulations are in order for your new sewer and water lines! Call us today to get started on your sewer, water line or water heater repair for your Nashville, TN home or office.
Dedicated, Reliable & Experienced Plumbing Professionals
Installing a new line is a complicated process, and you want to make sure it gets done right the first time. You need experienced professionals. You need Frog for your commercial and residential plumbing repairs and services in Nashville.
Our technicians are fully licensed, insured, EPA certified, NATE certified, skilled, and efficient. We also specialize in HVAC installations and repairs, electrical services and repair, plumbing repair, and heating and cooling.
Contact Us
Do you suspect a problem with your sewer and water lines? Are you building and need to connect your home to the main sewer line? You need Frog Heating, Air, & Electrical services.
Frog provides the best service and prices in Nashville, TN. Contact us today via email or by phone at 615-823-3965.