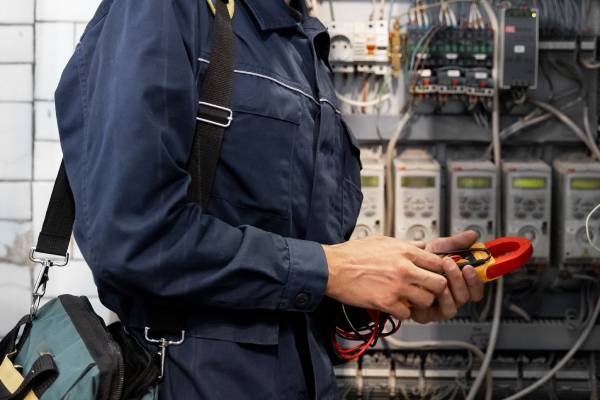 Frog Air, Heating, & Electrical provides several commercial electrical services in Nashville, TN. We have established an enviable track record of competence and reliability in commercial electrical work. We help with repairs, new installations, or routine maintenance. Additionally, we are also adept at installing intercoms, fire alarms, smoke detectors, rewiring, and other commercial electrical upgrades.
Commercial Electrical Applications
The electrical needs for commercial entities are diverse. They include telecommunications, routers, computer equipment, lights, HVAC systems, freezers, machinery, robots, and appliances, just to name a few. And because these devices are used virtually every second of the day, problems can arise, which can result in disruptive power outages. At Frog Air, we are well aware of the economic impact of power outages. That's why our technicians are highly skilled in all aspects of commercial electrical services such as contracting, installation, repairs, upgrades, and maintenance.
Services That We Offer
Commercial Electrical Installations
Our electricians are experienced and ready to put your vision into action. We can complete clean commercial electrical installations that are both aesthetically pleasing and functionally organized. We also ensure that your electrical outlets and circuitry are safe and mutually compatible.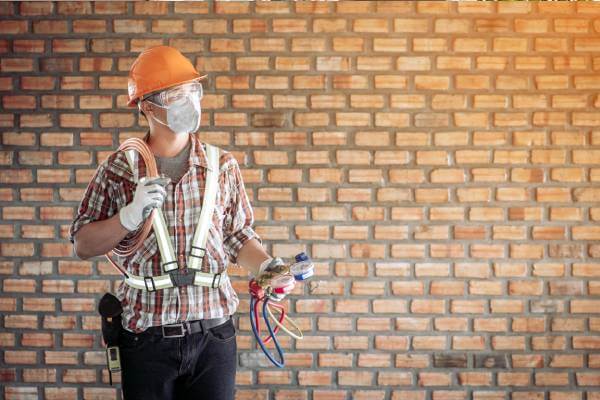 Our certified, licensed, and insured electricians can deliver basic breaker panel upgrades or complete commercial electrical system retrofits and rewiring. Years of addressing our clients' demands have earned us a reputation for superior commercial electrical services. We strive for excellence, and total customer satisfaction is our goal. We promise your complete happiness with all of our electrical services.
Electrical Contracting
Electrical contractors are responsible for designing, planning, installing, and maintaining electrical systems, as well as ensuring that they are functional and safe. They may also work with lighting, security systems, telecommunications, and even the wireless network infrastructure, depending on their experience. At Frog Air, we also have extensive experience in a range of environments, such as commercial businesses and private residences.
Commercial Electrical Repairs & Maintenance
To guarantee that your electrical system continues to perform effectively, like every other system in your building, it must be maintained regularly. Frog Air offers the most up-to-date enhancements and features to keep your company's electrical systems running efficiently. Your customers will be happy with our wide range of renovations and new product installations, including LED lighting and high-efficiency wiring. By improving your company's electrical systems, you will extend the life of your equipment and your circuits and cable.
Regular commercial maintenance and repairs prevent costly power outages and minor fixes from becoming large ones that could bankrupt your company. Periodic maintenance also maintains your electrical equipment's reliability and extends its lifespan, saving you money.
Frog Air's highly skilled electrical experts conduct audits and review potential concerns that signal additional attention is needed to repairs and maintenance. Equipment overheating can be a sign of a more significant issue. Wires might become frayed or exposed, posing a fire hazard.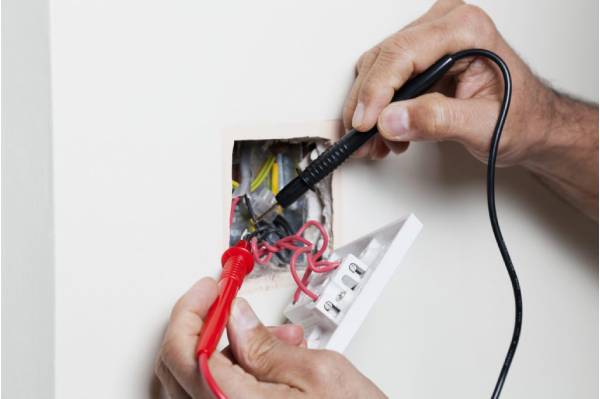 Commercial Electrical Renovations & Upgrades
Proper electrical renovations and improvements can keep your business functioning smoothly, efficiently, and safely. When considering a sitewide electrical renovation, you need to consult with a skilled electrician. Frog Air is qualified to handle all aspects of any electrical renovation and upgrades, including modifications. These include:
Adding auxiliary electricity outlets for extra computers and phones.
Installing dedicated circuits to prevent power surges and damage.
Ensuring your building complies with local laws
Upgrading your commercial surge protection to protect sensitive devices from sudden electrical surges.
Replacing old, inefficient electrical panels with more likely to have damaged wiring.
Upgrading aging wiring that is more prone to overheating and fire.
Replacing incandescent bulbs with LED bulbs to reduce energy costs.
Get Started Today!
Let us handle all your electrical needs so you can focus on your core business. When you're ready to get started, contact us today to schedule an appointment.